Description
VapX Geyser 100W Pod Kit System
The VapX Geyser is a new concept in pod system kit. The VapX Geyser is powered by a single 21700 cell and also can be worked with a 18650 cell with a sleeve. The VapX Geyser Cartridge is has large capacity for juice storage.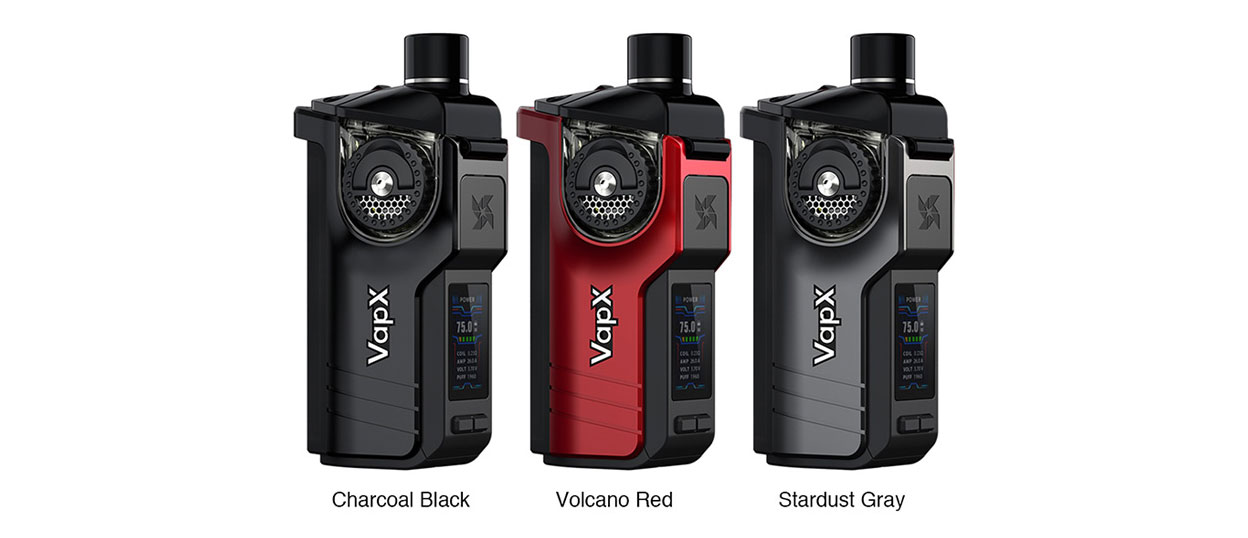 Product Introduction
The VapX Geyser Pod System Kit is a true revolutionary device to touch the the top technology. Powered by a single 21700 battery, the VapX Geyser reaches a maximum output of 100W. The VapX Geyser is also compatible with 18650 cell (with a sleeve). The VapX Geyser 100W Pod Kit attaches two pods of 5ml 75W Air Pod and 6.5ml 45W Air Pod. The 5ml 75W Air Pod is best for Loose MTL/Loose DL vape while the 6.5ml 45W Air Pod is perfect for Tight MTL/Restricted DL vape. The buck-boost converter brings a real stale and consistent output to the VapX Geyser. The VapX Geyser Pod Kit adopts magnesium alloy construction for a lighter weight. So an external li-ion battery will not make the VapX Geyser heavy in palms.
Parameters
Size: 87.7 x 30.9 x 53.5mm
Material: Magnesium Alloy
Pod Material: PC
Power Range: 5-100W
Capacity: 6.5ml/5ml
Resistance Range: 0.1-3ohm
Output Voltage: 0.5-8V
Battery: 1 x 21700 /18650 (Not included, with a sleeve)
Standard Coils: XCoil Model 10 / XCoil Model 15s
Compatible Coils:  Coils Of Model 10n/ Model 15d(sold separately)
Large 6.5ml/5ml juice storage
External 21700/18650 battery
Adjustable wattage from 5W to 100W
Innovative two AFC pods for precise air control
Tight MTL/Loose MTL/Restricted DL/Loose DL
Single/Dual Mesh XCoils
Easy top refill system
Bust-boost converter for stable and consistent output
It comes with
Without Battery
1 x Geyser Mod
1 x Dual AFC 45w Pod w/ Air Mesh
1 x Dual AFC 75w Pod w/ Air Mesh
1 x Single Air Mesh Max. 45w XCoil Model 10
1 x Single Air Mesh Max. 75w XCoil Model 15s
1 x 18650 Sleeve
1 x 1.2m Type-C Cable