Freemax 904L M Mesh Coils (3pcs/pack)
Welcome the
Freemax
M Mesh Coil! The Freemax M Mesh Coil is specially designed for
M Pro 2 Tank
. And the Freemax M Mesh Coil comes with four types of resistance for your choice. These coils are also suitable for
Freemax M Pro(Mesh Pro
) tank.
Freemax 904L M Mesh Coils Compatibility:
Product Introduction:
The Freemax M Mesh Coils have arrived at Vapelink. The Freemax M Mesh Coil is best for M Pro 2 Tank/Freemax Maxus 200W TC Kit. The Freemax M Mesh Coil comes with four different types for you to choose from. The Freemax M Mesh Coil adopts tea fiber cotton formula (95% Tea Fiber Cotton plus 5% Organic Cotton). Just get the Freemax M Mesh Coil for your Freemax device and enjoy the pure flavor and rich clouds.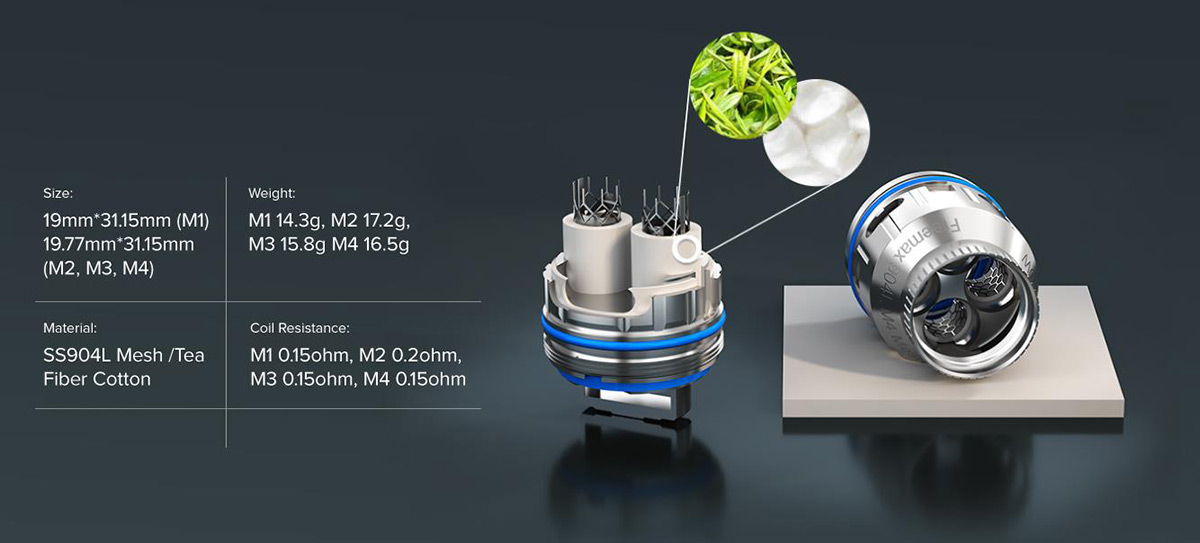 Parameters
Size:  19mm×31.15mm (M1)
         19.77mm×31.15mm(M2, M3, M4)

Coil Type:  Freemax 904L M1 Mesh Coil 0.15ohm (40-70W I Best 65W)
                  Freemax 904L M2 Mesh Coil 0.2ohm (60-90W I Best 80W)
                  Freemax 904L M3 Mesh Coil 0.15ohm (80-110W I Best 100W)
                  Freemax 904L M4 Mesh Coil 015ohm (70-110W I Best 95W) 
Material: SS904L Mesh/Tea Fiber Cotton

It comes with
1 x 3pcs Freemax M Mesh Coils
Note
: Before using these coils, they must be primed. Before vaping, the organic cotton around the coil must be completely saturated. Fill the cotton wicks around the coil with a few drops of 
e-liquid
. Fill the tank with liquid and let it stand upright for at least 10 minutes (longer in cooler temperatures). A faster approach to prime it is to draw through the tank a few times without firing.